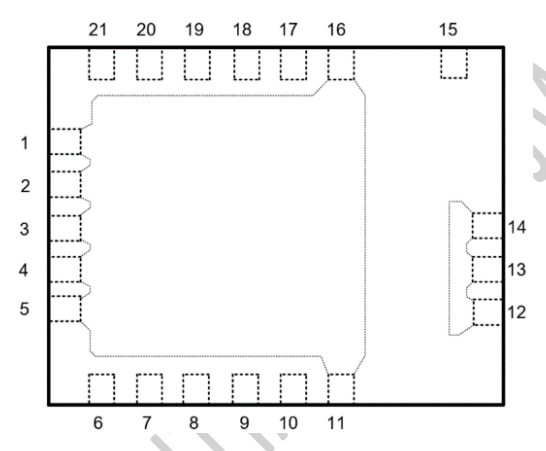 HL9550 GaN Integrated Primary Side PWM Controller for Flyback Converter
Feature
▪ eMode GaN power FET integrated
▪ Low 170 mΩ resistance
▪ High Average Efficiency by Quasi-Resonant (QR) and
Switching Operation
▪ Wide VDD Operating Range up to 80 V
▪ Smart Driver and Frequency Hopping for Better EMI
performance
▪ mWSaver® Technology for Ultra Low Standby Power
Consumption (<20mW)
▪ Integrated Over-Voltage Protection (OVP), UnderVoltage Protection (UVP) and Over-Temperature
Protection (OTP).
▪ Programmable Thermal Shunt Down Protection
through External NTC (SD)
▪ Programmable Brown-In Protection and Brown-Out
Protection
▪ Integrated High-Voltage (HV) Startup to Reduce
external Components
▪ Limit Power Source (LPS) and Constant Power
Protection (CP)
▪ Cycle by Cycle Current Pulse Limit (VCS_LIM)
▪ Current Sense Short Circuit Protection (CSSC)
▪ Secondary Side Diode Short Protection (SSSP) ▪ Accurate Protection Behavior for both Auto-Restart or
Long Auto-Restart (Trim Option) Mode
Feature
▪ eMode GaN power FET integrated
▪ Low 170 mΩ resistance
▪ High Average Efficiency by Quasi-Resonant (QR) and
Switching Operation
▪ Wide VDD Operating Range up to 80 V
▪ Smart Driver and Frequency Hopping for Better EMI
performance
▪ mWSaver® Technology for Ultra Low Standby Power
Consumption (<20mW)
▪ Integrated Over-Voltage Protection (OVP), UnderVoltage Protection (UVP) and Over-Temperature
Protection (OTP).
▪ Programmable Thermal Shunt Down Protection
through External NTC (SD)
▪ Programmable Brown-In Protection and Brown-Out
Protection
▪ Integrated High-Voltage (HV) Startup to Reduce
external Components
▪ Limit Power Source (LPS) and Constant Power
Protection (CP)
▪ Cycle by Cycle Current Pulse Limit (VCS_LIM)
▪ Current Sense Short Circuit Protection (CSSC)
▪ Secondary Side Diode Short Protection (SSSP) ▪ Accurate Protection Behavior for both Auto-Restart or
Long Auto-Restart (Trim Option) Mode
Applications
▪ Battery Charger for Smartphone and Tablet PC
▪ Adaptor for Portable Device
▪ Flyback Power Supplier with Low and/or Variable
Output Voltage
Description
HL9550 is a primary side controller for isolated flyback
converters with an innovative mixed mode control
mechanism, optimized for PD PPS power supply wide
output voltage applications. Its proprietary novel QuasiResonant and CCM operation offers higher efficiency for
wide AC range. By reducing the switching
frequency at high line it further improves the thermal
performance. The burst mode enables smaller input
power consumption at light load and no load. The product
has a wide operating range (6.5 V - 80 V) of IC power
supply, reduced the extra circuitry for accommodating
wide output voltage variation. The numerous protection
functions support the protections of the power supply
system in failure situations. All of these make the HL9550
an outstanding controller for Quasi-Resonant Flyback
converter in the market.